Enterprise File Fabric v2106 Release Notes
Key New Features and Enhancements in v2106.00
V2106.00 contains hundreds of improvements. This page describes some of the most important new features and enhancements. A comprehensive list of the changes in v2106.00 can be found here.
External Users
A new category of users, External users, can be added to organizations. These external users can belong to Business Group Workspaces and can be allowed to use sharing links that are private to the organization. For more information see External Users.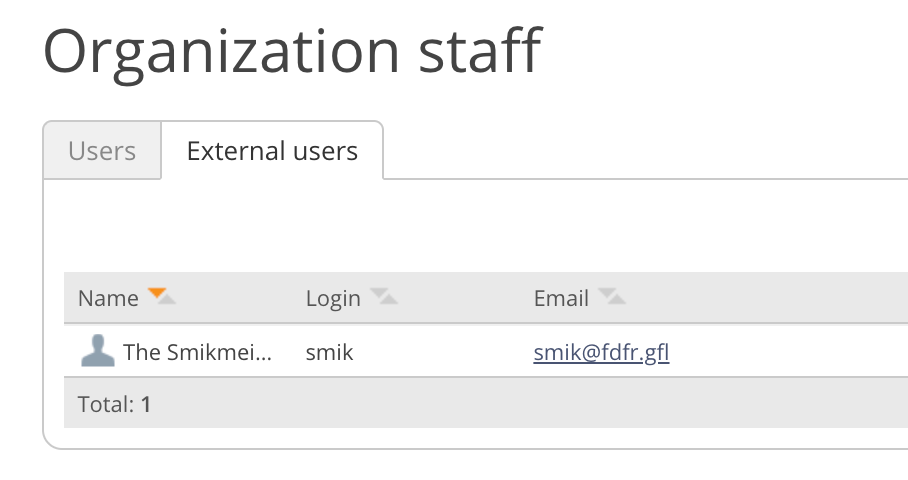 Secure Link Sharing
v2106 contains many enhancements to the File Fabric's secure link sharing capabilities. These enhancements, which enhance security, administrator control and user experience include:
password complexity controls

complex password generation

authenticated sharing

sharing limited to named individuals

sharing limited to organization users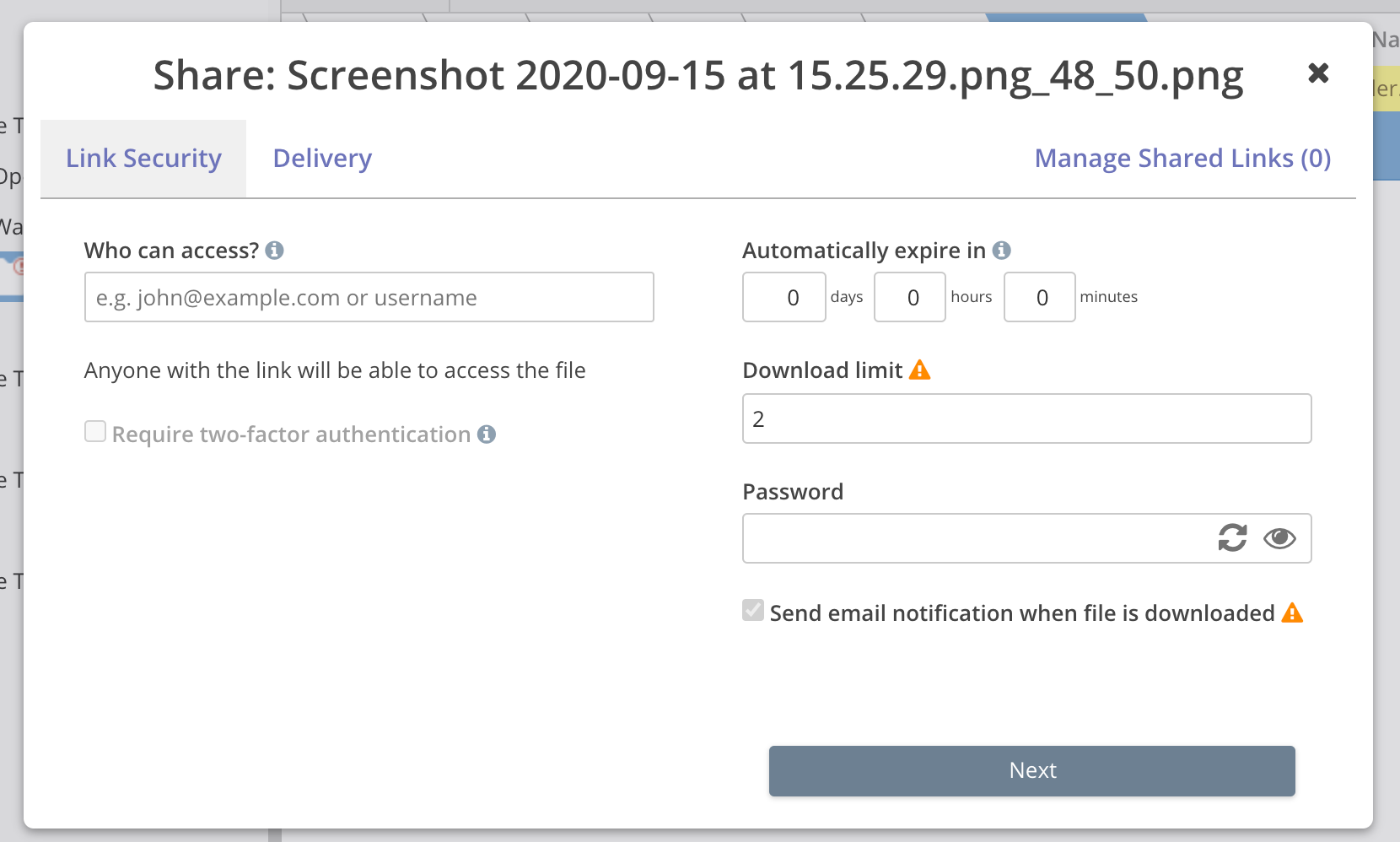 Improved Home Page
A "last login" widget and other new widgets can now be included on the Home page. The "last login" widget shows each user the location from which they logged in previously.

Improved Microsoft Teams Support
The File Fabric's integration with Microsoft Teams has been enhanced to provide better administrative controls, a smoother workflow for generating a Teams-ready private app, and deep links for easy Teams content sharing. See Microsoft Teams Integration.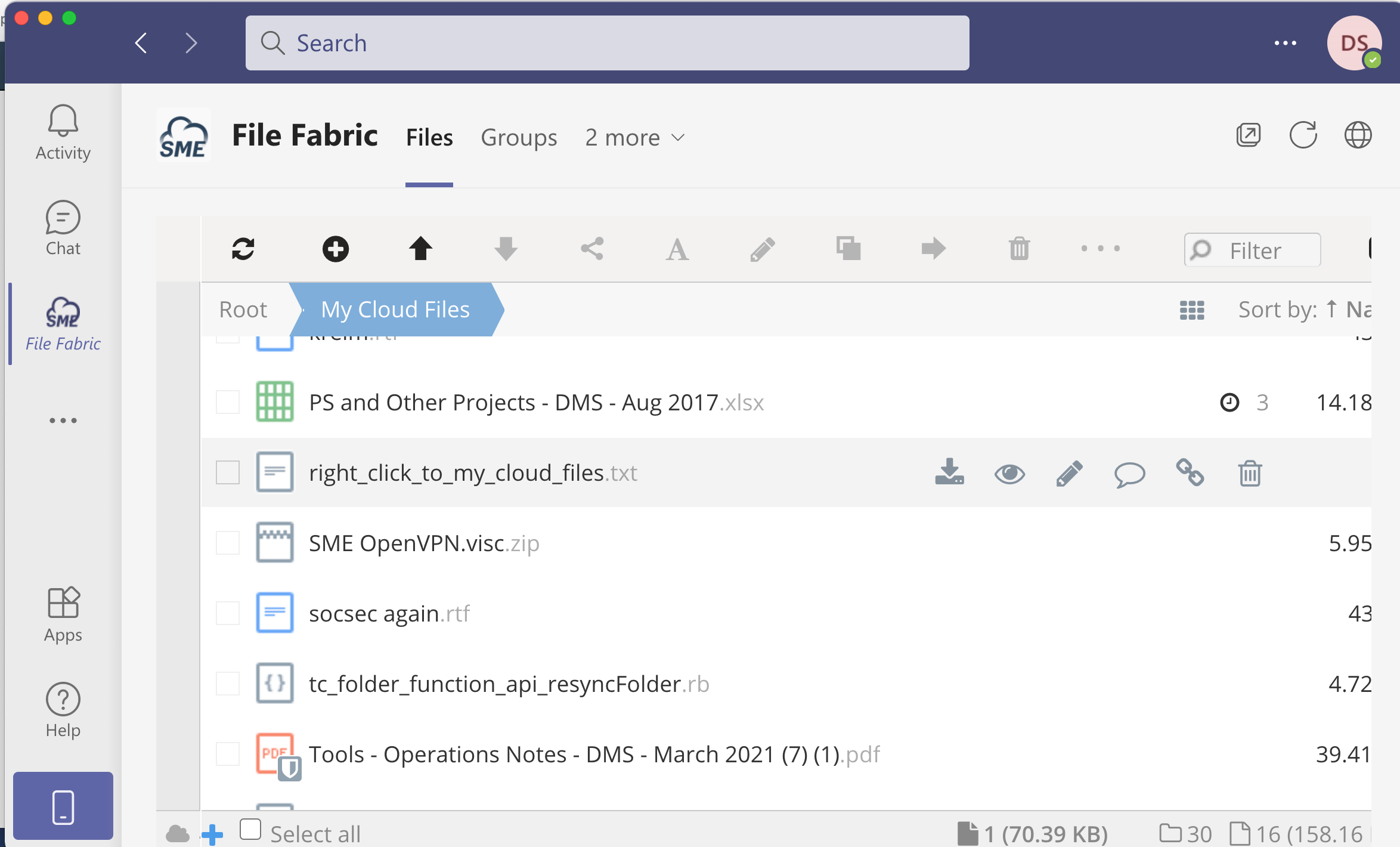 SAML IdP Flow Support
The File Fabric can now participate in SAML single sign-on workflows initiated from an IdP, allowing the File Fabric to participate in a broader range of enterprise single sign-on strategies.
SAML – Support for SMB with SAML
The File Fabric's SMB Connector can now use SAML for delegated authentication, enabling single sign-on access to SMB shared resources by end users.
SMBStream
SMBStream enables the File Fabric to connect securely to SMB shares that are not on the File Fabric's network or even in the same site or region. SMBStream reduces cost and complexity and provides improved performance compared to the VPN alternative. *SMBStream access is dependent upon the File Fabric license in use.
Trash - Age-Based Emptying of Trash
Prior to v2016, when Files were moved to Trash on the File Fabric they remained on the underlying storage until they were explicitly purged by a user. Starting with v2106 the File Fabric provides an option to remove files from Trash and the underlying storage automatically after a configured number of days. Individual folders can be exempted from automatic removal.

Data Automation Rule Enhancements
The File Fabric's Data Automation Rules have been extended in several ways including allowing automatic transcoding of uploaded or discovered files, and invocation of user-supplied webhooks when qualifying content is detected.
AutoCAD Previewer
v2106 provides integration with an AutoCAD file previewer, allowing .dwg and other file types to be previewed from the File Manager. SME hosts a previewing service for use by its File Fabric customers. Customers can also arrange with SME to have their own on-premises or on-cloud preview service instances.
Performance Improvements
Performance has been improved in several areas including:
cross-bucket file transfers

content indexing

file uploads
Direct Downloads
Direct downloads are now supported for many leading enterprise storage platforms. This change, which can improve performance, is otherwise transparent to users.
Provider Level Locking Controls
SMB locking can now be turned on and off on a per-provider basis, allowing this behavior to be tuned for different storage usage patterns.
Node Management
Starting with v2106 when the File Fabric is deployed in a multi-node configuration, maintenance tasks can be configured to run on any or all nodes.

2106.01 Service Pack
Released in: September 2021
[SME-5849] - When appliance default storage was in use and a Backup Provider had been configured for it, the last backup date was not shown on Dashboard. This has been resolved.

[SME-5972] - DropBox rate-limiting sometimes caused operations using DropBox storage to be incomplete. This has been resolved.

[SME-5977] - When a shared link is being created, external users can now be selected from the dropdown list of possible recipients.

[SME-5978] - Organization administrators can now invite new external users from the "External users" tab on the "Organization staff" page.

[SME-5980] - When the

containerized

version of the PDF Burner was used, the getPdfInfo API method sometimes erroneously reported an error. This has been resolved.

[SME-5984] - Users who had disabled third-party cookies in their browser sometimes encountered a redirection loop while trying to use Office Online to edit documents from the File Fabric. The File Fabric will now try to detect this situation and display an appropriate message.

[SME-5986] - It was not possible to register with Keycloak from the File Fabric. This has been resolved.

[SME-5988] - When content indexing was active for a provider, the index used for content searching was not updated when the tags or classifications for a file on that provider were updated unless/until the file itself was updated. This has been resolved.

[SME-5989] - In File Fabrics that had been updated to v2106 from an older version, error messages were sometimes encountered when files were being renamed. This has been resolved.

[SME-5990] - Files can now be drag-and-dropped into Business Group workspaces.

[SME-5996] - When a user account was configured to have access to SMB storage through the Nasuni or SMB Multi-User connector and the user

logged in with SAML

and provided the correct storage credentials on the Configure your Storage Resources page, the File Manager should have loaded. Instead, the Configure your Storage Resources page remained loaded. This has been resolved.

[SME-6000] - Copying the same file to the same directory twice at around the same time with versioning active and when using a WebDAV, Box, Dropbox, filesystem (FS) or OneDrive provider sometimes removed the head version of the file. This has been resolved.

[SME-6014] - When the File Fabric created an SMB lock to lock a file on SMB storage, if the file was subsequently renamed while the lock was still in place then the file could not be unlocked or locked again. This has been resolved.

[SME-6015] - The tool tip text for the "Enforce maximum allowed downloads" policy was incorrect and has been corrected.

[SME-6022] - When Content Intelligence was configured to include video transcoding, the File Fabric attempted to perform the transcoding step when Content Intelligence was selected from a file's context menu in the File Manager and an error resulted. Video transcoding is no longer attempted in this situation.

[SME-6033] - When a batch of files was uploaded to a folder with an Audit Watch notification, in some cases some of the notification emails that should have been sent were not sent. This has been resolved.

[SME-6046] - When Cloud Refresh was used on a folder on a provider during the provider's initial sync, duplicate folders sometimes resulted. Cloud Refresh is no longer allowed during a provider's initial sync.

[SME-6057] - A spelling error in the File Manager's file upload popup has been corrected.

[SME-6072] - When the org. admin the granted a member permission to create or delete Shared Team Folders on the "Who Can Create/Delete Shared Team Folders" tab of the "Shared Team Folders" page, all members were given the permission. This has been resolved.

[SME-6094] - The "Configure your Storage Resources" page was available to users who did not log in with SAML and so had no use for the page. It is now hidden.

[SME-6095] - Consistency in how file timestamp times and time zones are presented in the File Manager has been improved.

[SME-6097] - Virus scanning and direct uploads are now disabled when M-Stream is being used.

[SME-6123] - Searching by file modification time failed to return files that were modified at zero seconds after the hour. This has been resolved.
2106.02 Service Pack
Released on: 19 October 2021
[SME-5992] - Seconds are now shown as part of the event times in the list of events on the Audit Event Logs page.

[SME-6102] - Shared links created by auto-provisioned users ceased to work when the user's SMB password was changed. This has been resolved.

[SME-6105] - The ffconfig utility did not correctly handle values containing the pipe ('|') symbol. It now handles those values correctly.

[SME-6107] - Contacts could not be added reliably as recipients of business group invitations. This has been resolved.

[SME-6141] - Under some circumstances, thumbnails were not displayed in search results for files of types for which the File Fabric supports thumbnails. The thumbnails are now shown.

[SME-6179] - Memcache configuration has been rationalized and improved to prevent an error that occurred under unusual circumstances,

[SME-6183] - Buckets were sometimes removed from the File Fabric's metadata when the storage was unable to list its contents. They are no longer removed.

[SME-6205] - Under some circumstances users of shared links to Drop Folders could not create subfolders when creation should have been allowed. This has been resolved.

[SME-6211] - An adjustment has been made to how modified times are maintained for files on S3 providers.

[SME-6213] - Under some circumstances an organization user using a shared link to access a Drop Folder could not upload to the folder. This has been resolved.

[SME-6223] - Attempts to play MP4 videos in the File Manager caused the File Fabric to display messages stating that passwords were required. This has been resolved.
2106.03 Service Pack
Released on: 2nd December 2021
[SME-6069] A new MS Teams integration is available, offering Folder pinning within Teams in-conjunction with collaboration with internal and external Teams users.

[SME-6305, SME-6219] - Storage level locking for SMB now supports Deny Modes.

[SME-6301] - Under some circumstances copying a file with URL encoded characters to Azure Blob Storage could fail. This has been resolved.

[SME-6300] - Improvements to the error messages when folder sharing is not available.

[SME-6298, SME-5981] - Improvements to copying versions when custom version locations are used.

[SME-6297] - Under some circumstances, a Javascript error could happen when adding the FS Provider. This has been resolved.

[SME-6273] - Internal improvements to retrying of some SQL operations.

[SME-6270] - Improvements to retrying of API calls to S3 when network failures happen.

[SME-6269] - Under some circumstances, a system error could be generated related to "SC not found". This has been resolved.

[SME-6255] - Active Directory users with a space in their login name can now be reactivated by admins.

[SME-6251] - A recent update in Chromium browsers meant multi-select boxes would not always initially show the selected items. This has been resolved.

[SME-6245] - In some circumstances, the FM's Context Search would not always display all possible results. This has been resolved.

[SME-6216] - In some circumstances, a file could have duplicated metadata after executing the doRenameFile API call. This has been resolved.

[SME-6197] - Resolves an issue where thumbnail generation for large files could leave stub files on disk.

[SME-6187] - In some circumstances, previewing videos could pause momentarily depending on the location of the video.
2106.04 Service Pack
Released on: 4 February 2022
Key New Features and Enhancements in v2106.04
[SME-5956] - The File Manager now includes an embedded media player, "Web Stream", that can preview or play many media formats from most File Fabric provider types without the need to transcode the files in advance or to load plugins. Scrubbing is also supported.
Web Stream is a premium feature. For information about accessing it please contact your SME sales representative.
[SME-6323] - Collaborative editing within Drop Folders is now supported by the File Fabric's Microsoft Teams application.
Other Changes
[SME-6356] - When a file to which classification values had been assigned was copied, the new copy of the file did not have the classification values. Now the classification values are copied with the file.

[SME-6325] - The display order of tasks on the Background Tasks pages has been revised so that running tasks always appear at the top of the list.

[SME-6267] - API Support is now provided for launching collaborative editing sessions.

[SME-6334] - Performance has been improved for the SMB Multi User and Nasuni connectors when large directories are being listed.

[SME-6338] - Under some circumstances an out-of-memory error was encountered during content discovery. This will no longer occur.

[SME-6346] - Previously an error occurred in the File Fabric's SMB and Nasuni connectors when directories containing more than 100,000 files were encountered. This limitation has been removed.

[SME-6349] - Transcoding was not possible when two-factor authentication was enabled. Transcoding can now be performed whether or not two-factor authentication is in use.

[SME-6367] - The Office Online viewer is now enabled automatically when the Office Online editor is enabled.

[SME-6372] - Improvements have been made in the presentation and handling of the Shared Links download limits and link expiration time settings.

[SME-6366] - When an organization member's account was removed by the appliance administrator (appladmin), all of the metadata associated with files belonging to that member in Shared Team Folders was removed from the File Fabric. Now metadata removal is managed the same way as when a member is removed by the org. admin.

[SME-6137] - In certain circumstances uploading a file and then using the File Fabric API to ensure synchronization of that file between the File Fabric and the storage could cause duplicate metadata entries for the file in the File Fabric's metadata. Duplicate entries will no longer be created.

[SME-6363] - Failed copy and move operations are now retried more consistently.

[SME-6371] - Inactive users were incorrectly counted against available users. They are now ignored.

[SME-6373] - Files can now be selected for inclusion in zip/archive downloads.

[SME-6352] - In several contexts the File Manager will now show a recently cached directory listing before retrieving a fresh listing.

[SME-6337] - Changes made to PowerPoint files edited from the File Manager with the Zoho editor were not saved. This has been resolved.

[SME-6286] - An anomaly that occurred under certain circumstances in the treatment of permalinks for org. admins has been resolved.

[SME-6405, SME-6407] - Issues affecting provider controls for content indexing have been resolved.

[SME-6267] - The Fie Fabric's API has been enhanced to allow collaborative editing sessions to be launched.

[SME-6332] - The File Fabric's getSharedFullInfo API method has been updated to work with folders as well as files.

Several changes have been made to improve information security.
2106.05 Service Pack
Released on: April 8, 2022
Key New Features and Enhancements in v2106.05
[SME-6324] - Users of the File Fabric Teams application can now authenticate using SAML.

[SME-6382] - Search results can now be ordered by relevance. This is available through the File Manager Search tab and also via the API.

[SME-6425] - Administrators can now control whether File and Folder sharing is available for specific Team Folders

[SME-6426] - Administrators can now establish a policy which users of Secure Shared Links (for Files or Folders) must accept before accessing shared links.
Other Changes
[SME-5250] - The File Fabric API now allows the caller of a method that lists the content of a folder to specify that a cached version of the folder's contents should be returned immediately and a refresh should be launched in the background.

[SME-5931, SME-6456] - Several issues relating to write operations on Site Link providers have been resolved.

[SME-6357] - Some text shown by the File Fabric Teams application has been improved.

[SME-6379] - Two issues related to editing email templates have been resolved.

[SME-6381] - The SMB Multi User and Nasuni connectors now integrates with the File Fabric's list-only capabilities for SMB Traversal Permissions (ABE).

[SME-6398] - It is no longer possible to configure an SMB Multi User or Nasuni provider without specifying an authentication system.

[SME-6399] - A misconfigured SMTP outbound email server connection could cause delays in logging in by org. admins. These delays will no longer occur.

[SME-6415] - The File Fabric's Android app. sometimes displayed a communications error because it was unable to parse XML content returned by the File Fabric. This has been resolved.

[SME-6421] - An issue with captchas during self-registration has been resolved.

[SME-6423] - The relative priority of some processing steps has been adjusted to improve responsiveness.

[SME-6429] - The File Fabric can now exploit an SMBStream feature that allows smbclient operations to be executed remotely.

[SME-6433] - Under unusual circumstances move operations performed with M-Stream could terminate due to an abnormal accumulation of upload operations. This will no longer occur.

[SME-6439] - New files discovered by re-syncs of a provider for which a Backup Provider had been configured were sometimes not copied to the Backup Provider until the provider was re-sync'd again or some other triggering operation occurred. This has been resolved.

[SME-6445] - A delay by the File Fabric in notifying the CIFS Locking service of a credentials change could cause the login process to be slow. This has been resolved.

[SME-6451, SME-6511] - Corrections have been made to the behaviour of content searches in which the AND keyword is used.

[SME-6457] - The copyright content detector provided for use with Content Detection has been made more sensitive.

[SME-6466] - The number of folders that will be searched when the "in subfolders" option is used with the File Manager's Filter function has been capped.

[SME-6473] - The progress counter for content indexing tasks has been improved to adapt to changes in the number of items to be indexed.

[SME-6477] - The email address suggestions feature for shared link creation has been refined.

[SME-6481] - An OAuth sign-in issue that caused operations on Nasuni and SMB Multi User providers to fail has been resolved.

[SME-6497] - Under some circumstances not all files were indexed when a provider was re-sync'd and content indexing was in use. This has been resolved.

[SME-6498] - External users were sometimes prompted to create a storage provider on login when default storage had already been provided. This has been corrected.

[SME-6506] - A storage structure used to store data temporarily sometimes became fragmented, causing performance to deteriorate. It is now recreated periodically to maintain consistent performance.

[SME-6516] - File Fabric uploads are now more resilient in failover situations on HA installations.

[SME-6518] - The meanings of the values of the "Members can see other members" Business Group setting were reversed. This has been resolved.

[SME-6525] - An omission in the information returned by the File Fabric API's getFolderContents method has been resolved.

A new command line feature,

ffdiag

, has been added for use by system administrators to simplify the process of collecting diagnostic information and providing that information to SME.
---