Cloud Migration Assistant
Last updated on November 15, 2021
The desktop Cloud Migration Assistant provide a way for users and companies to move data either from their local environment to different Cloud Providers or from one Cloud Provider to another.
Applicable to:
SME Personal Cloud

Cloud File Server (Team) Users

Appliance (On-Site and IaaS)
1 Desktop Setup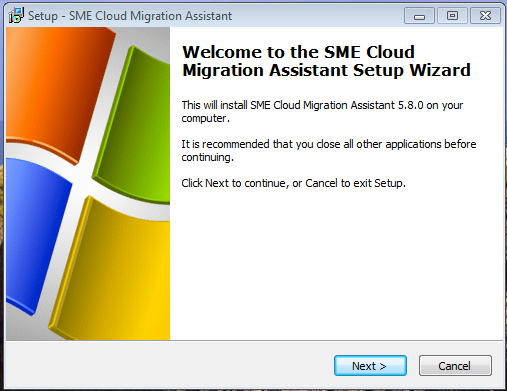 The desktop Storage Made Easy Cloud Migration Assistant is a windows package installer that works on Windows 7,   and Windows 8 Operating Systems (32 or 64 bit).
Note that we do not test or support this software on Windows 7. The information about Windows 7 is provided on an as-is basis.
2 Running the desktop Assistant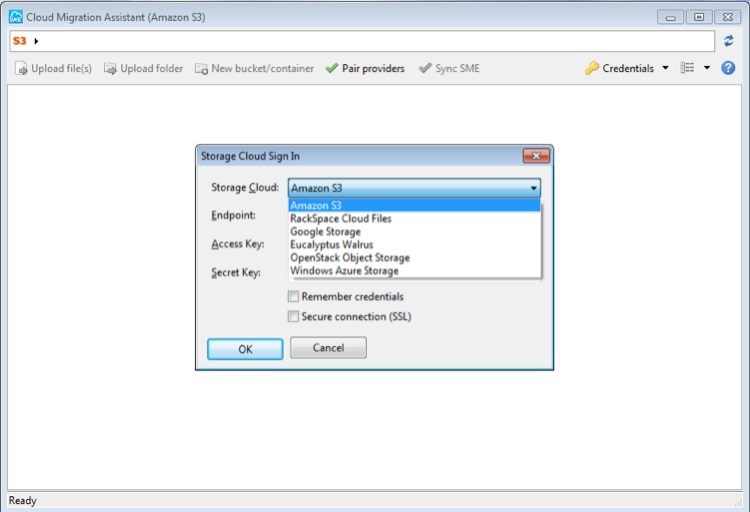 The desktop assistant enables a company or user to move files from a local PC or local shares to an object storage cloud. The supported object storage clouds are:

Amazon S3
RackSpace Cloud Files - UK and US
Google Storage
Eucalyptus Walrus (this can also be used for other S3 compatible clouds)
OpenStack Swift
Windows Azure Storage

3 Post Authentication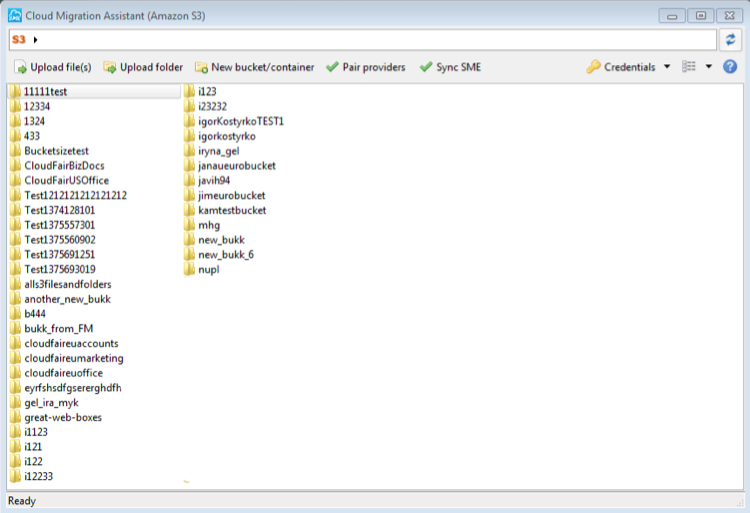 Post authentication the user will be able to see the files on the remote service. Note you are not logged into the SME service at this point, this is a direct connection.
4 Uploading files/folders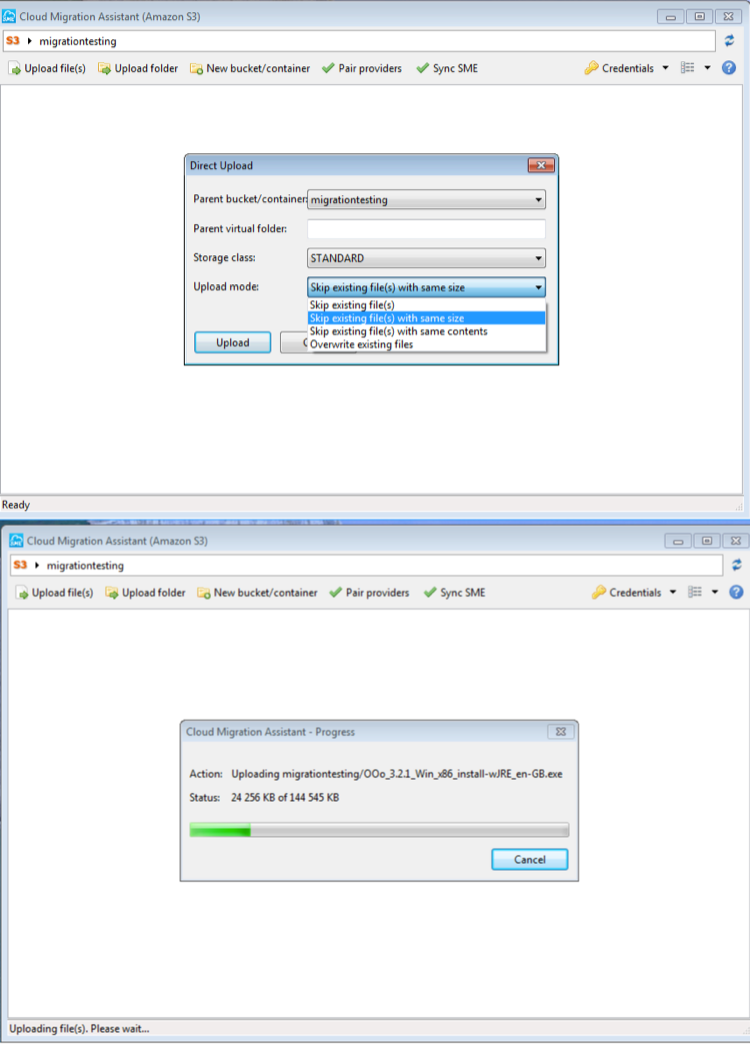 The user can choose an existing bucket or container or create new one and then has the option to upload files or folders. If the migration has been run previously and did not complete the user can choose to skip existing file with the same size so that the tool picks up from where it left of.
The upload is direct to the storage provider and has been optimized for speed so it should be very quick, dependent on the network infrastructure capacity being used.
5 Post Upload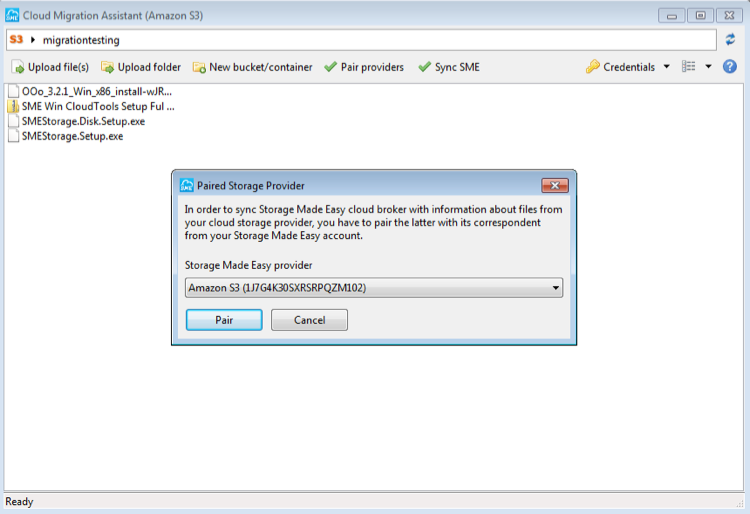 When the upload(s) are completed you can choose to pair the cloud storage provider you have been populating with the (same) provider you have added to Storage Made Easy. Once paired you can simply click the "Sync SME" button to populate the SME meta-data repository with new information about the files you uploaded so they appear in the SME account.
6 Web Cloud Migration Assistant
As of File Fabric version 2106 the Web Cloud Migration Assistant has been removed and is no longer supported. It is replaced by Rclone integration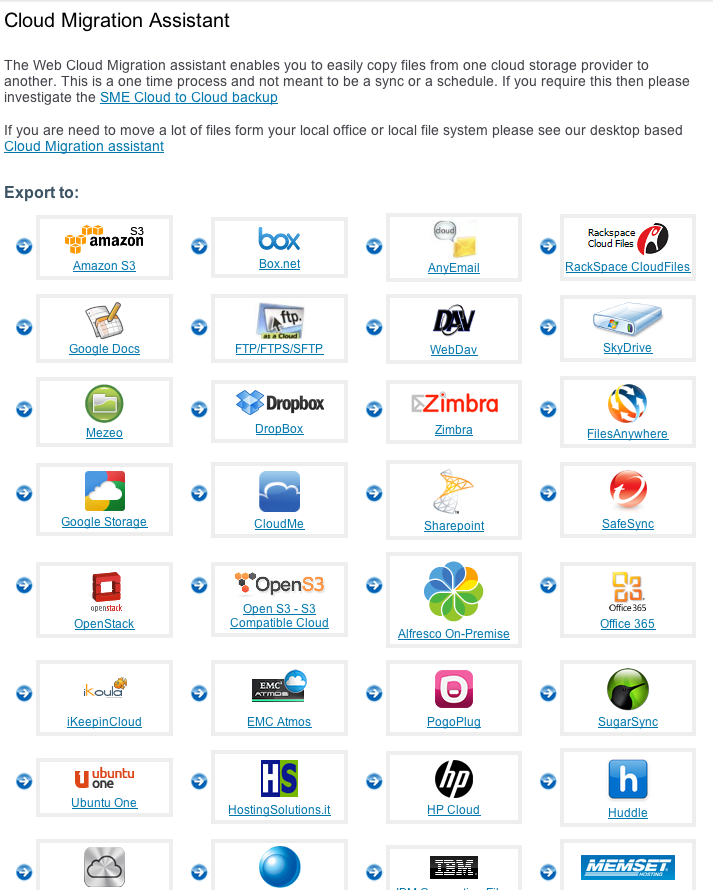 Users of the SME Personal Cloud, Business Cloud, and on-premise or IaaS Appliance users can also take advantage of the web based Cloud Migration assistant. The web based assistant enables users to migrate from one public based storage Cloud to another.

There are limits, dependent on user package, to what can be moved on the SaaS platform. This will be displayed on the page. The on-premise appliance or IaaS hosted Appliance has no such limits.
7 When Data is too large to Transfer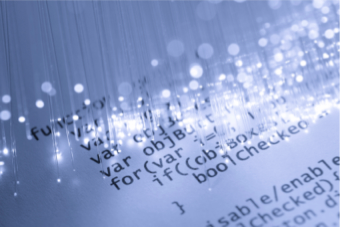 If you wish to use a public cloud there are a number of options if data is just too large to transfer to Cloud:

Amazon S3:

Amazon S3 offer an import / export service that accelerates transferring large amounts of data between the AWS cloud and portable storage devices that clients ship to Amazon. For more information, see the AWS Import/Export documentation.

Google Storage Offline Disk import:  

Currently (August 2013) this is a beta feature that is only available in the United States. The service provides the ability to load data into Google Storage by the company or user sending Google a physical hard drive that Google then loads into an empty Cloud Storage bucket. For further / latest information please refer to the direct Google Page on the service.

RackSpace Bulk Import Service:

RackSpace provides a service that lets customers send Rackspace physical media to be uploaded directly to the RackSpace data centers. At the data centre "migration specialists" connect the device to a workstation that that has a direct link to Rackspace's Cloud Files infrastructure. The cost is $90 per drive and an extra $15 if you would like the drive returned. Further information can be found here.

HP Bulk Import Service:

This service is still in Private beta.   Latest information can be found here









---