Downloading Folder Archives
latest update: Jan 27, 2023
The Web File Manager allows downloading a folder's content into a range of archive formats. The following archive formats are supported:
CloudZip has been tested successfully with folders up to 100 GB containing files up to 10 GB each.
There are several ways to download a folder in an archive format outlined below.
Usage
Navigation Folder Context Menu
To download a folder, follow these steps.
Click Ok.
Item Context Menu and Explorer Menu
Alternatively, select one or more files from the viewer pane, and click Download. Select an archive type, and click Ok.

Download Icon
When you hover over a folder in the list view, you will see an icon giving you the option to download that folders content.

Administration
Organization Policy Configuration
Ensure that in the Team Admin account, from Organization»Policies» User Governance the Folder download option is turned On.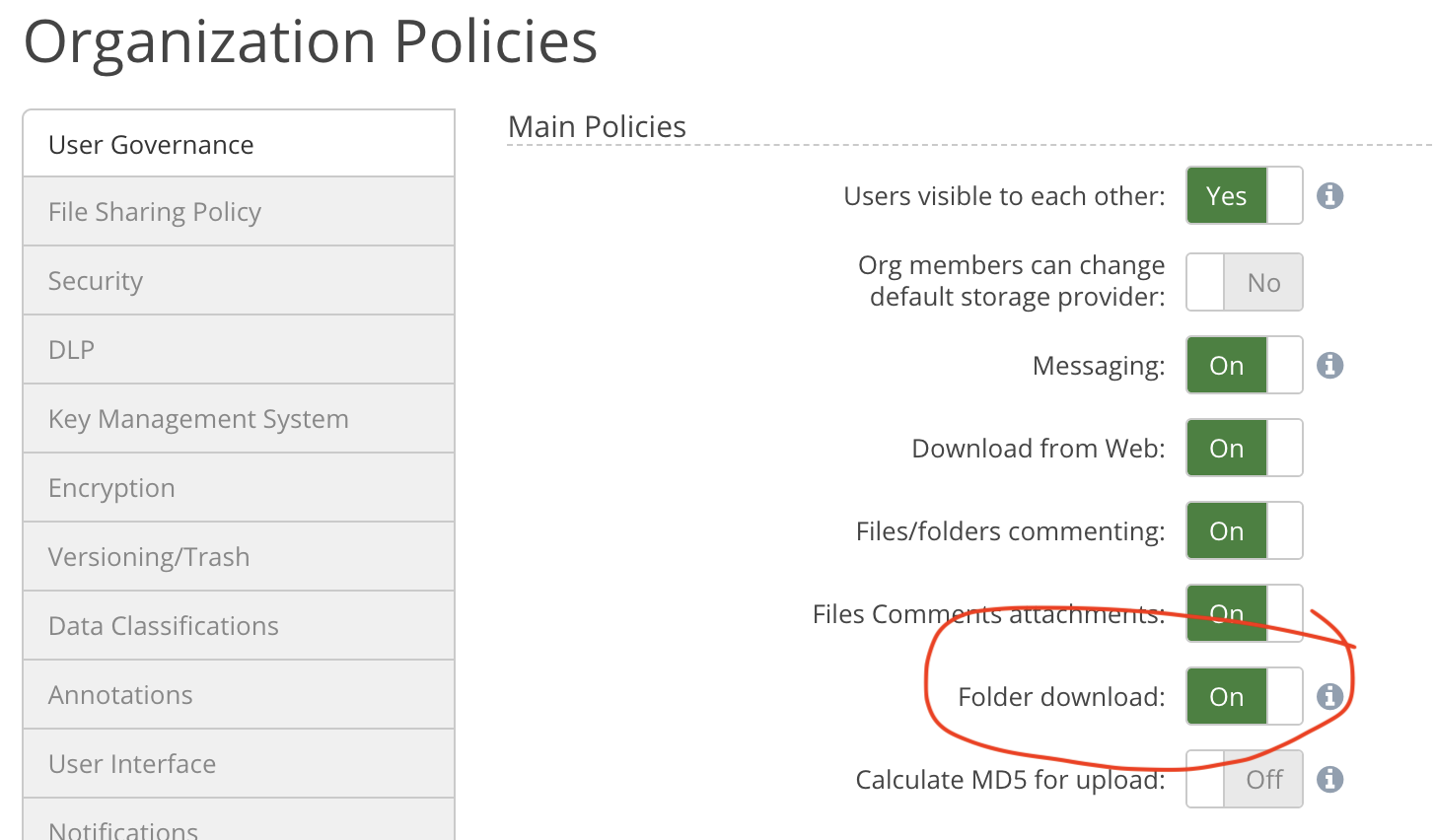 Appliance Configuration
Ensure from the appladmin account that the User Package, associated with the user account has the Extra Options (add-ons) option Download Zipped Folders enabled.
Implementation Notes
Exported Zip archives are generated in the

ZIP64 format

. The default Mac OS X Unarchiver called "Archive Utility" does not support Zip files created with ZIP64. It only supports the ZIP32 format. Mac users attempting to export to Zip will be warned about this compatibility issue and will be prompted to choose another format for which their platform can extract. Other Mac OS X Zip unarchive programs are able to support the ZIP64 format.

Empty folders will not be included in the archives.

Version files will not be included in the archives.

On SME's US and EU SaaS service, when a directory being archived to .tar or .tar.gz contains a file greater than 4GB in size, the archive could be reported as corrupt. Zip archives are unaffected.

If a file is not found on the storage, it will not be included in the archive file.

Some web browsers like Chrome and Edge will automatically decompress a .tar.gz file to a .tar file without renaming it appropriately. Some archive extractors may have an issue with this. Renaming the file to .tar may resolve this for you.

The File Fabric will only include files that it has metadata indexed. The contents of unindexed folders will not be included in the archive.

At a technical level the Zip is 'in-stream' so it is not required to increase partition sizes on the File Fabric's Enterprise Appliance to be able to accommodate user estates using the zip functionality.
---