**This is an old revision of the document!**
Filebox
FileBox is a way to for you to add emails and attachments to your nominated storage cloud just by CC''ing or Bcc'ing your email to your unique Storage Made Easy FileBox address.
Works with:
Free Accounts

Personal Cloud Accounts\

Cloud File Server Accounts
1 Filebox: Sharing files over email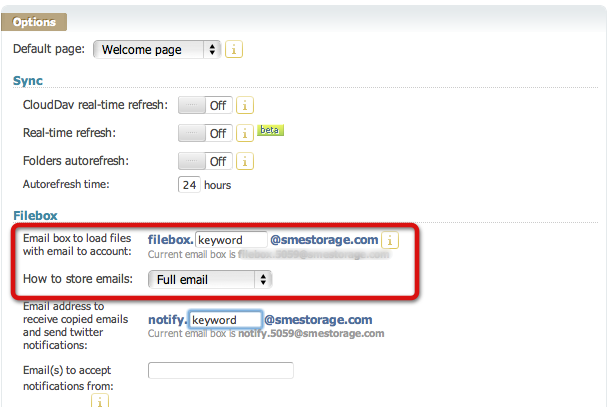 Filebox works as follows:
All users have a Filebox setting in their Dashboard page.

Each FileBox address requires a unique keyword. You can use the default or assign your own keyword to the filebox@StorageMadeEasy.com email address so that the end email address become filebox.<keyword>@storagemadeeasy.com.

This keyword becomes a unique address to send or forward an email. All emails that are received to this address that are sent from your registered Storage Made Easy email address will be added to a

smart folder

called "

My FileBox

"

You can configure whether just to store emails or emails and attachments.

Within the Filebox folder the subject line of the email will become a folder name. The email, will be stored as a text file, with any attachments if this is the configuration you chose.
**Note** You must send the emails from the email address that you registered with Storage Made Easy for the emails to be picked up** (if you want to add more email addresses you can do this from Cloud Add-In's)
**Note** FileBox emails are processed every 5 minutes so it may take 5 to 10 minutes for the email to appear in your FileBox
2 FileBox for Cloud File Server users