Microsoft Office Online
Microsoft 365 users can edit File Fabric documents, presentations and spreadsheets through Microsoft Online.
Please see the blog post on information about the release.
To be able to use this new feature on the File Fabric, users must have an active Microsoft 365 subscription.
For the use of Microsoft Office Online for Enterprise File Fabric Appliances please see here
What is Microsoft Office Online?
Microsoft Office Online is an online office suite offered by Microsoft, which allows users to create and edit Microsoft Office documents using just your web browser. It supports editing of document formats such as Word, Excel, PowerPoint and OneNote.
The File Fabric support editing documents stored on any of our 60+ storage platforms through MS Office Online.
Requirements
An active Office 365 Subscription.

Office Documents in modern formats (like .docx, .pptx, .xlsx etc)

Inbound internet access to the File Fabric server from the Office Online tools
Enabling MS Office Online
Microsoft Office Online will not be enabled in your account by default, therefore, it is necessary for you to enable it.
It must be enabled by your Organization Admin account. Once logged in, visit the Organization menu and select Policies.
From the left-hand menu, select User Interface.
From the available options under FM allowed viewing/editing options, you will need to ensure that Microsoft Office Online Editor is checked, as highlighted below.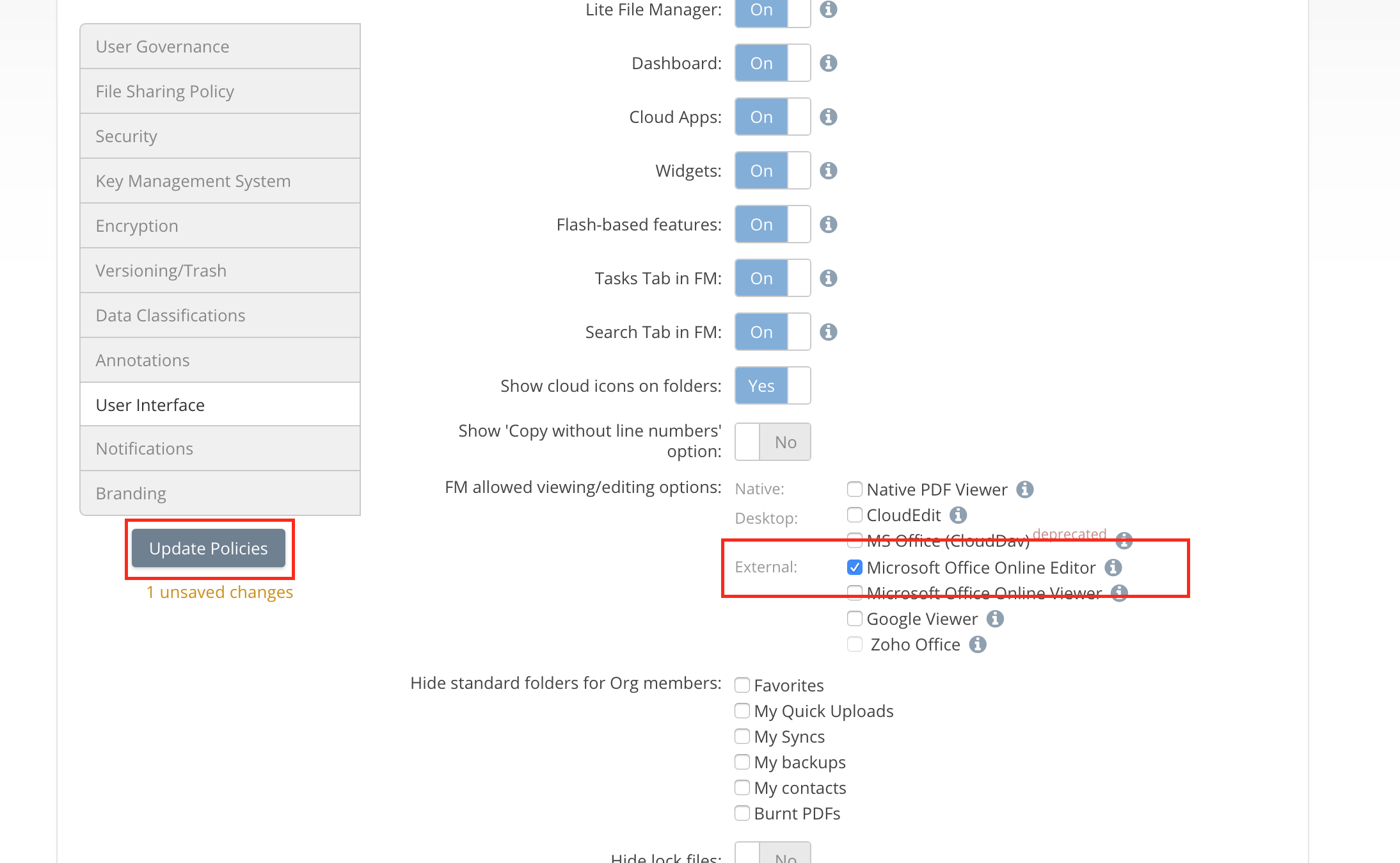 Then press Upload Policies to save the changes.
Now the MS Office Online editor will be available to your users.
Editing Documents
The MS Office Online integration provides both a single-user edit mode, as well as a multi-user real time collaboration edit mode for different document types.
Single User Edit
To edit in single user mode, find your document, Right click and select Edit with MS Office.
This will open a new window, where you can edit your document. The document is locked and the editor seamlessly saves the changes back to your Storage Made Easy account.
Multi-user Real Time Edit
Multiple people can edit documents at the same, in real-time, using team edit. To enable team edit each user opens the editor using Edit with MS Office (Team) from the Right click menu.
Changes will appear in real time as each user makes edits to the document. The editor seamlessly saves the changes back to your Storage Made Easy account.
Notes
Microsoft requires 3rd Party cookies to be enabled. In some browsers like Safari and Chrome's Incognito mode, the default behaviour is for these cookies to be disabled. Without enabling 3rd party cookies, you may experience difficulty editing documents.
See also:
---