Microsoft Office Online For Appliances
As of 1901.00 release of the File Fabric, our Microsoft Office Online integration is now available for On-Premises and IaaS customers.
For information regarding MS Office Online, you should refer to our general guide here.
This guides covers how to enable and configure the MS Office Online integration on your On-Premisies appliance.
Appliance Requirements
In order for the MS Office Integration to work, the following requirements must be met.
Your appliance must accept public inbound / ingress connections on port 443.

Your appliance must be able to make outbound / egress connections to MS Office Online service

Enterprise File Fabric version 1901.00 or newer

Access to the Appliance Admin 'appladmin' account on your File Fabric
Enabling MS Office Online
To enable MS Office Online, you will first need to login to the 'appladmin' account of your File Fabric instance.
From the Hamburger Menu, select User Packages.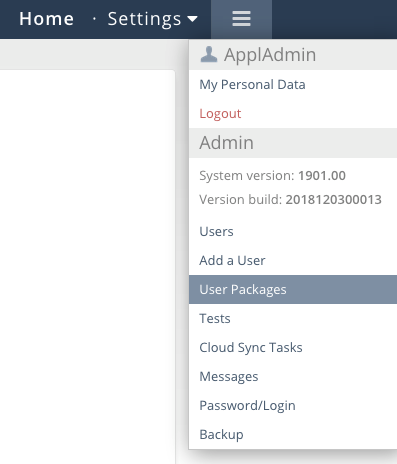 MS Office Online is made available to your File Fabric users via the Packages.
From the User Packages screen, find the package that you wish to make the feature available to, and click on the edit pencil on the right-hand side.
From the Functionality Options section, ensure the MS Office Online option is ticked. Then, save the changes to the package.

Now, MS Office Online will be made available to your File Fabric users.
To verify this, you should login as an Organisation Account on your File Fabric. Navigate to Organization > Policies and under User Interface you should tick the MS Office Online Editor option under FM allowed viewing/editing options.
You will now be able to edit documents with MS Office Online. You should refer to our general guide for more details.
Data movement
As the MS Office Online is a publicly hosted service offered by Microsoft, any files that are opened for Edit by MS Office Online will be sent to the MS Office Online service. Only the requested files are sent, and they are delivered through secure https encrypted connections.
Due to domain restrictions imposed by MS Office Online, communications between MS Office Online and your hosted File Fabric, passes through Storage Made Easy's WOPI Proxy service. This proxy is completely transparent and does not require any configuration to use. The proxy stores no state and does not have any access to the data which is SSL TLS encrypted.
SME provides two WOPI Proxy services; one located within the US data-center, and another located within the EU data-center.
The File Fabric ships with the US WOPI Proxy enabled by default.
If you wish for your traffic to pass through SME's EU data-center, the following line should be added to a File Fabrics appliance config.inc.php file:
var $msofficeproxyurl = 'https://wopi-proxy-eu.storagemadeeasy.com/';
Please note that although traffic will only flow through the EU/US data-center, we are unable to provide guarantees over where MS Office Online stores the data being edited, and for how long.
---